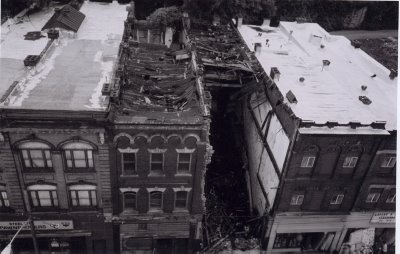 These are pictures of the town of Braddock, PA. If I were still living in New York and had not pluncked my life savings into the region, I think that I would have a lot of guilt about posting them. I dont think that even the most ardent fan of it today would call it much more than a ghost town or a corpse, so it borders on morbid voyeurism to show it. But, places like Braddock are not too uncommon around here and the issues they raise are pretty real.
To start with a little backround, Braddock wasn't always a corpse, it was actually SLIGHTLY, important and very much alive. So the mayor of Braddock ( and don't you want that job ) has put up a web site with his own money and put out all these pictures of the town and he actually hopes to revive it. He is showing these pictures with the hope that someone will see something or have an idea or whatever.
Well, it's in places like this where the rubber really meets the road, and a town's history, memory and virtual reality faces it's physical one. There is the mostly dead physical place and then there all the very real people who came from there and all thier memories and they are not dead. And, of course there are all the new people who might see some posibility there. The internet puts this in your face and makes it in some ways harder to forget things and places. I think that can be good.