"Untitled (Web), by Vija Celmins, oil on canvas, 15 1/4 by 18 inches
Vija Celmins was born in 1939, She has been creating prints and paintings for decades. Interestingly, I found when looking for images for this artist that the same group of images were used. This one is from the 2002 Whitney Biennial. The images that I had found were of work clustered in the late 60's - early 70's. The above painting was done in 2000. The works that I saw were amazingly consistent, given that they spanned nearly forty years. I know that's not the most important thing about this artists work. Just sayin'.
Phil Collins - baghdad screentests 2002 - Courtesy Kerlin Gallery
From the Tate site - For the return of the real / gercegin geri donusu 2005, originally commissioned by the 9th Istanbul Biennial, Collins invited people who felt their lives had been ruined by appearing on talk-shows and makeover shows to tell their extraordinary stories at a press conference. Furthermore, Collins hired a director of a Turkish reality TV show to conduct hour-long interviews with the participants. By putting these individuals under scrutiny once again, Collins makes the ethics of further exploitation one of the main subjects of the piece. Read more
Huh. Okay.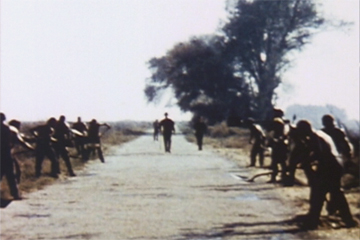 Bruce Conner - Luke
From Artopia - Conner was born in 1933, and Luke in its present form is one of those career-confirming mature works of art. And although we may yearn to see some of the artist's moldering assemblage sculptures -- using nylon stockings among other things -- Luke in the meantime will send you running to your local video store's avant-garde section to catch up on this West Coast artist's masterful found-footage films. Read more
Okay, so that's a wrap for today. Out of the seven artists that I have looked into, four of them create video art. That doesn't necessarily mean that the work included in CI08 will be video work, but I am starting to wonder. There are still over thirty artists to look through. I will say again that I am not a big fan of video art. What I'm wondering though is if this is what is seen as contemporary art right now.
The website for the CI08 has not been updated yet, by the way.